<! beginning for column 1>
<! section for the product picture > <! section for the featured product article >
KosherEye Featured Kitchen Tool


---
The Tofu Press

What is a tofu press? It is our newest culinary discovery. The TofuXpress tofu press is designed to be the healthy cook's kitchen tool! It presses water effectively from a standard size brick of commercially made tofu to change the texture and add flavoring. 
Tofu is a great source of vegetarian protein.
Many people today want to add tofu to their diet and enjoy its benefits - it's a great source of protein, low in fat, high in calcium, and more!
The TofuXpress also converts into a marinating dish to add flavor, and avoid more dishes to wash! Since tofu easily absorbs flavor, the TofuXpress is an excellent tool for marinating and infusing.
The TofuXpress can also used to press vegetables and other foods, such as sliced eggplant, thawed, chopped spinach, fresh tomatoes, chopped onions, cabbage, pepper and more.
Product Description:
Designed to convert into a marinating dish

Parts fit together for convenient storage

Made of FDA approved thermoplastic and stainless steel

No more plates, weights or paper towels

Made In America! The TofuXpress is entirely made and assembled in the U.S. - 1 year limited warranty

Dishwasher-safe
Most Rabbis consider unflavored, plain tofu kosher, even without certification on the label. When buying tofu, we prefer organic varieties.
Price: Approximately $40
To purchase, visit Amazon.com
.
For more information, visit tofuexpress.com.
Check out the demo videos.
If you would also like to learn to make a vegetarian stir fry with pressed tofu, watch this.

We're Bubbling over with Excitement, but our Soup is Not! Get this Gadget!
Who is Tom Tothill? He is a New Zealander and in 1997 he invented the SimmerMat—one of our favorite kitchen helpers ever! More than one million of these have been sold.
So what is it?
The SimmerMat is the ultimate heat diffuser for the range. Made of enameled steel, it works on all cooking surfaces and is ideal for slow cooking. No more scorched pots, no more burnt foods and no more soup bubbling over and making a huge mess. It works! We tested it and love it! We use it almost every day. It is a reliable flame diffuser for low and slow cooking on electric, gas or induction ranges… keeping the flame low to avoid scorching or burning foods. We agree with its fans, which include a lengthy list of chefs and foodies, such as the famed English TV chef and personality, Jamie Oliver.
Here's how to use it:
Take control of your cooking! Simply place the SimmerMat on the range with the points of the cones facing up. Then place any type of pot or cooking vessel on top of it. The pot sits on the elevated points of the SimmerMat... the area of contact with the pot is so small that burned food and overflowing liquid are avoided. It is absolutely perfect for braising and simmering, melting chocolate or making oatmeal, rice, soups, stews and casseroles.
And the rest of the story:
The newest version of this cooking wonder features 7 rounded cones to distribute the heat evenly to a pot or pan, rather than the 12 cones of the original. We have had ours, which is the original, for over 5 years and truly have had no complaints. So, the new re-design is a bonus...an excellent kitchen tool getting even better. Just keep in mind that the SimmerMat is a simmering utensil and is not intended for high heat cooking. Remember to keep that flame low and slow!
For us, SimmerMat is a must; It is an indispensible time and money saving kitchen helper. It is dishwasher safe and has a lifetime guarantee. We think it is well worth the cost of about $15. Just do it! To purchase, go to Amazon.
For MORE INFORMATION information visit www.imcg.us.
Exciting, Convenient, Disposable, Kosher
There are so many choices of bake ware. Just to name a few: aluminum, non-stick, silicone, stainless, glass, paper. Yes, paper! KosherEye is very excited about this unique disposable baking pan product.
Novacart, the world's largest producer of paper products for the baking and confectionery industry, was founded in 1926 and is headquartered in Garbagnate Monastero, Italy. Novacart USA, its American subsidiary, has been in operation since 1983, with its main office and warehouse located in Richmond, California and a new production facility in Moorestown, NJ.
Easily recognizable by their dark brown background with gold floret print overlay, these paper baking molds are often seen in bakeries and up-scale food stores. Made in Italy, they are constructed of heavyweight corrugated paper and eliminate the need to use metal baking pans. Just bake, serve (or gift), throw away; what could be easier or more convenient?
Novacart bakeables are the perfect baking accessory and are available in loaf, round, square, tube, brioche, and muffin/cupcake pan shapes in a variety of sizes. An added bonus is that the products are more attractive than the average disposable foil pans, and are freezable and microwaveable. The baking pans are intended for one time use only.
Baking a batch of brownies and wondering how to wrap them for gifts? Use the mini sized 4-inch pan, with a clear lid, to package those delectable brownies. Martha Stewart, the guru of creativity, is a fan of disposable paper bake ware and has featured several different Novacart paper baking pans on her TV show, The Martha Stewart Show. We enjoyed watching her make a traditional Italian holiday cake using the Panettone pan. She especially likes the disposable pans for gift giving.
KosherEye is also a huge fan of the paper bake ware product. We gifted yummy blueberry buttermilk breakfast loafs, baked in the small size loaf pans. It was incredibly easy and we followed the guidelines suggested by the manufacturer:
Do not grease the pans

Place pans on a baking sheet for stability and easier transportation to and from the oven

Oven temperature maximum is 390 degrees Fahrenheit.
Novacart baking pans and accessories are KOF-K certified kosher. All pans made in Italy are kosher.
Contact Novacart USA for product and purchasing information. There is a $75.00 minimum order requirement if purchased directly from Novacart.
The product is also available at Amazon
, The Pepper Mill, King Arthur Flour and Sur La Table.
Grapes or Pomegranates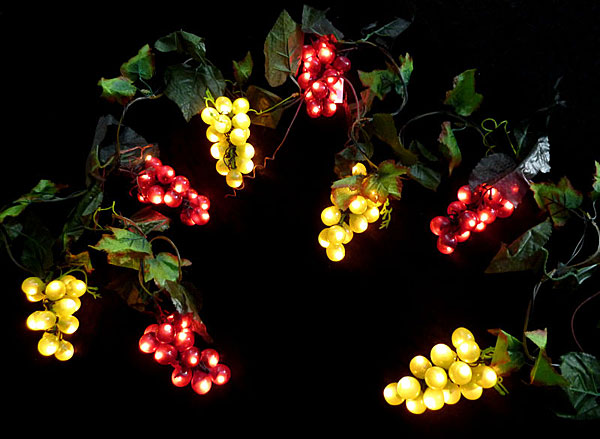 It's almost time for Sukkot. We love these fruit lights — 10' long strings of light consisting of 30 Pomegranates or 120 grapes, strung together with leaves.
What a unique addition to brighten and beautify a sukkah. This online store offers numerous accessories and decorations for use in the Sukkah.
Low wattage, individual bulbs

Push-button control

Eight function variations for adjusting/sequencing lights
$30 per 10' light string of Pomegranates
$27 per 10" light string of Grapes
Since 1888, Rösle has been creating tools and utensils worldwide. You may not think that a tomato slicer is something that would be useful, but it is. With its serrated blades, this handy kitchen tool swiftly slices perfectly even slices of tomato. Just place the tomato on the base, position the slicer on the top of the tomato, press down on the slicer sides and presto...beautifully sliced tomatoes. A word of caution: the blades are sharp.
We did not try slicing Mozzarella cheese, since we are keeping our slicer parve. So yes, we likely need another one for dairy! We do know that we love this tool for slicing tomatoes, cucumbers and, it easily and evenly slices hard boiled eggs as well! We'll be trying it on cheese when we buy our second one!
Product Description:
Tomato/Mozzarella slicer has 10 sharp, serrated blades for neat and easy slicing

Base ensures complete division and catches juice

Lateral handles provide a safe, firm grip

18/10 stainless steel, POM base

Dishwasher safe, Lifetime warranty
Price: $29.54
To view or purchase, click here.
The wonders of the Rösle Tomato and Mozzarella Slicer

<< Start < Prev 11 12 13

14

15 16 17 18 19 20 Next > End >>


Page 14 of 27
<! end of column 2> <! beginning for column 3 >
<! end of main>

<! end of content >

<! end of wrapper> <! section for footer >